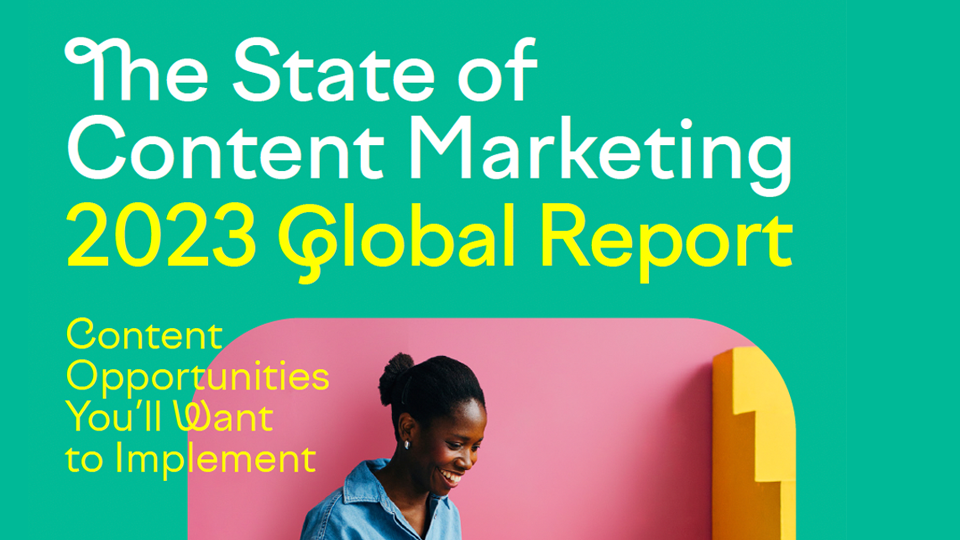 Is video the most effective form of content marketing?
As a strategic video agency, it could certainly be argued that Big Button might be a little biased on this subject 😉 We've been preaching about the benefits of properly produced video content for twenty years, and our strategy sessions have always focussed on creating more effective content and using the measurement tools required to prove that effectiveness. It seems that the wider video industry is now on the same page, and people are starting to demand measurable results from their video content. The recently published The State of Content Marketing 2023 Global Report by Semrush is a deep dive into content marketing that calls on data from thousands of companies around the world.
Video outperforms all other types of content
The report is certainly worth a read, but the highlight from 126 pages is that 45% of the thousands of marketers polled felt that video outperforms all other types of content. Blog posts come in a close second, something in our experience that works particularly well if accompanied by video – the perfect mix, it seems.
Digging a little deeper, it's specifically short-form video that performs best, with company/product videos and customer stories coming a close second. Interestingly, webinars and interactive content were seen to be performing worst. It's certainly a trend that we've seen, with a large part of our production in 2023 being focused on customer advocacy.

A big challenge is getting people to watch your content
Getting those videos seen continues to be a big challenge for marketers. The report indicates that organic social marketing is the favourite form of promotion (but not necessarily the most effective), presumably because it's the 'cheapest' way to distribute content. 51% are using paid ads on social, something we've seen work very well if executed properly. It allows almost instant access to a very targeted (and new) audience.
Facebook is preferred for organic marketing, but don't forget YouTube Ads
Regarding the organic channels that are being used, Facebook still comes out on top, and although many are considering TikTok, only 35% are using it (more than Twitter though!). When paying to promote content, the numbers are a little generic ('social media advertising' is quite a broad category), but it's clear that YouTube ads are still a powerful force (38% ranked it best for sharing, 40% best for ads); as the channel continues to evolve it should still be a strong consideration for B2B brands.
A hybrid between in-house and outsourcing production is the way forward
When it comes to video production, 43% outsource. Many of our clients have their own in-house video function but understand that there are limitations in terms of resources, and that certain projects should be outsourced to achieve best results.
Regularly updated content has higher engagement
We strongly advise our clients to conduct a 'content audit' to get a better understanding of the video they already have, and how it's working. It seems that 16% of those surveyed don't conduct audits at all. If you aren't doing so already, then it's probably time to start looking at the video you have on your site and other channels and getting a better understanding of how it's performing. Old video content can sometimes continue to achieve results, but as is clear in the report, those that regularly update their content (the majority), see marked improvements in engagement.
There's still uncertainty about what success looks like
I opened by talking about the effectiveness of video. Sometimes people are so busy servicing the requirements of their business, they don't have time to check that the content they're producing is effective. In fact, 46% of those asked either don't measure ROI or aren't sure if they do! Video is now more measurable than ever, so it's important that you work with your video agency to start putting metrics in place.
45% of poll respondents want to measure 'brand awareness', but this tends to be one of the hardest things to actually quantify. Surprisingly, the goals of measuring generated leads, sales and revenue, and customer loyalty (arguably the most powerful metrics) rank lower.
However, when asked how they do gather results, 67% say it's through measuring leads and conversions rather than brand awareness. This perhaps supports the idea that measuring something vague and nebulous like brand awareness is very difficult to do with any accuracy.
Huge opportunity for those wanting to measure video results
These results demonstrate how content marketing (especially with video) is still in a state of flux when it comes to measurement. It's a big opportunity for those that want to do it properly.
Get in touch with Big Button to learn about creating and measuring video more effectively.
You can read the full report HERE
Simon Crofts
Client Services Director