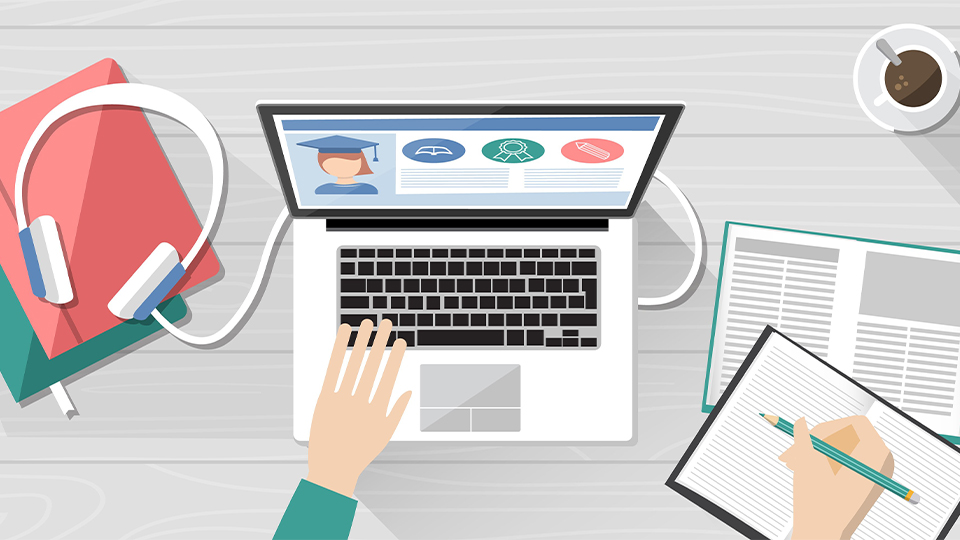 Trends come and go but learning never goes out of fashion. In the past, teaching yourself new skills involved buying or borrowing books, or paying fees to a school or institution. Nowadays, everything you ever wanted to learn is online — and its big business. According to Research and Markets, revenues from eLearning are expected to reach $325 billion by 2025.
We've seen the power of eLearning video content first-hand. We've produced full courses of content for clients on a range of subjects from legal compliance to the science of air compression. In every instance, these have had a remarkable impact on learners, and beyond, in these organisations. And the decision to translate classroom training into online video content has been justified, every time.
In case you're still not persuaded of the value, here's the business case for investing in online learning video content:
1. Learner engagement
Educational videos are engaging and accessible. During each phase of production, producers work closely with subject matter experts to maintain the highest editorial standards and communicate key learning points in the clearest way possible; because of this rigorous production process the videos are guaranteed to always be technically accurate. The results will be memorable and effective, and more likely to deliver your learning objectives.
2. Reach an international audience
The benefit of using animation and voiceover is that it can be localised for different audiences in different languages, making the videos a versatile and cost-effective solution. They can also be updated to incorporate the latest developments or when new product or service features are released.
3. Cost-effective
Using video in learning can save the expense of travel, accommodation and couriers when sending trainers around the world. For one of our clients, it also mitigated the risk of lost or damaged demonstration equipment and learning materials.
4. Flexible learning
Not everyone has the time and capacity to spend whole days in training sessions. If they do attend, other responsibilities may distract them from focusing on the opportunity to learn when attending the course. With video, learners can progress on the course in their own time and fit it around working and personal schedules. They could even complete it at home in their own time and fast-track the course. This is particularly useful for sales reps who spend most of their time on the road, or if there are local travel restrictions.
5. Test knowledge and understanding
It's important that learners not only participate in the training, but that they also understand the subjects. With enterprise video platforms such as TwentyThree, interactive quizzes can be added at the end of each video to test learners' comprehension of the subject and prove that they are retaining knowledge. Not only is this an advantage over classroom learning, which can be a passive experience, it will improve long-term performance and provide an evidence-based compliance record for learners if required.
6. Use clips for social media and other marketing campaigns
Certain topics in the courses will interest audiences outside of the organisation, such as clients and prospects. The videos can be repurposed into shorter versions for content marketing or video tutorials for customers, and assets can be made available for other communications and marketing campaigns — all maximising value from the investment.
7. Additional data insights
Another advantage of using an interactive learning technology like video is that it's easy to track. Data and analytics give insights into how learners are engaging with the modules, such as attendance, engagement and completion rates. Insights from data mean that the content can be constantly developed and improved, and these lessons can also be applied to wider learning and development programmes.
8. New course content
As well as saving money, these videos can be integrated into classrooms, event presentations or workshops, making certain parts of the course even more concise and easy-to-understand for learners.

I spoke to an asset manager recently who was relieved to not have to deliver the same basic information at the start of a presentation he'd been giving for ten years; instead, he played a 5-minute explainer animation which we'd originally produced for another campaign. The animation conveyed the information in a concise and engaging way, got clients up to speed quickly and efficiently while also creating a great impression.
The popularity of learning platforms such as Masterclass has proven that high-quality educational content with high production values is worth the investment. I also believe that every organisation could benefit from this approach. And if you are that unique organisation that wouldn't, challenge us and prove us wrong — we'd love to hear from you.
Sam Lewis
Production Director