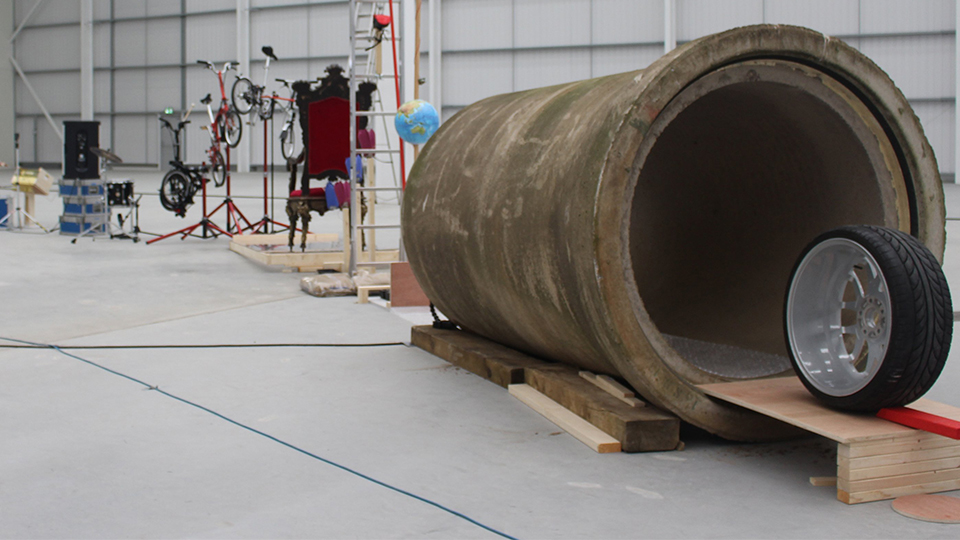 Big Button has designed and built a stunning kinetic sculpture, inspired by the work of Rube Goldberg, using a strange and eclectic assortment of items found on SEGRO trading estates.
The ambitious contraption was built for inclusion in a suite of films produced by Big Button celebrating the centenary anniversary of the founding of SEGRO, with the brief to 'mark the milestone in a fun and memorable way'.
Built and shot in three-weeks in a SEGRO warehouse in Rainham, Essex, the final contraption was a breathtakingly intricate machine constructed entirely from the products of SEGRO's extensive array of customers. This included an aeroplane seat, Brompton bicycles, sheets from the Queen's dry cleaners, Thunderbird 2, 100 lemons and a two-tonne concrete drainpipe — to name just a few! It was designed by specialist installation artist Nik Ramage, and inspired by the work of cartoonist Rube Goldberg.
The contraption was filmed in a single take, and is being featured on the SEGRO website and across social media. Nick Hughes, Director of Marketing and Communications at SEGRO, said: "It's been great working with Big Button. Having the clarity and conviction to go from concept all the way to creation — and not deviating from it — to produce something so special is an impressive achievement. It was an ambitious idea and there were tensions and pressures on all of us throughout the process to deliver, but it was a really good relationship working with Big Button."
Simon Crofts, Client Services Director, added: "It's been a long journey with months of planning, but we're so pleased with the final result and most importantly, so is the client. We're grateful to SEGRO for giving us an open brief and having complete faith and confidence in us and our creative vision. It's been a fantastic team effort from everybody involved and the videos are a fitting way to celebrate the centenary of one of our country's greatest industrial success stories."
UPDATE: In the first 24 hours of its launch, the contraption film received over 300,000 views on social media
You can view the behind-the-scenes 'making of' story below:
SEGRO started in 1920 establishing the Slough Trading Estate — the first UK home for some of the biggest brands in the world including Mars, Johnson and Johnson, and Black and Decker. In the 100 years since then, it has expanded across Europe and now manages estates with a huge range of businesses of all sizes across many sectors, from small artisan bakeries and manufacturers to household names such as Amazon, Royal Mail and Ikea.
Blog header image courtesy of Nik Ramage