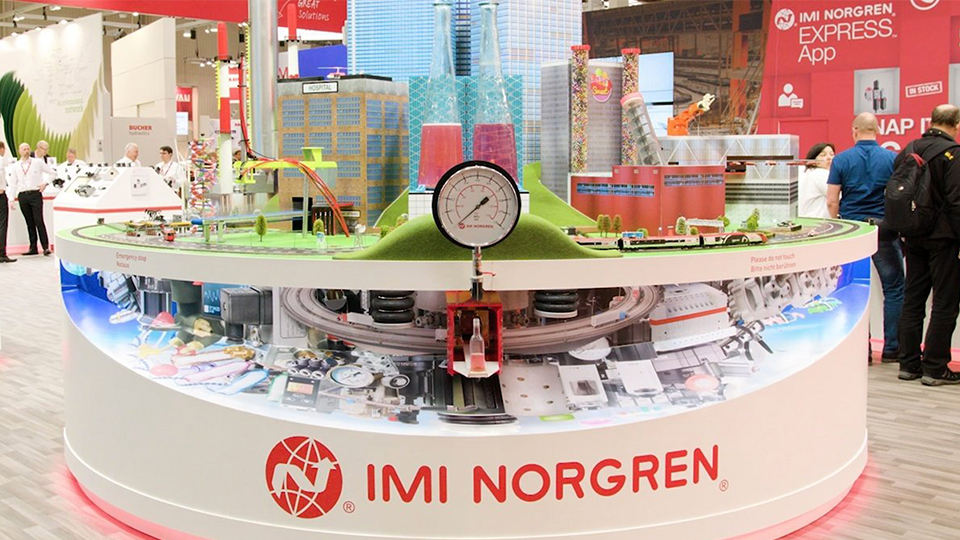 Big Button has once again worked with IMI Precision Engineering to deliver event videos for their stand at the prestigious Hannover Fair 2018.
The Fair is a key date in the events calendar for IMI Precision Engineering, who are a world leader in motion and fluid control technologies. Big Button were present to film at the show, which is one of the largest industrial trade shows in the world.
Hannover is a massive opportunity to demonstrate IMI Precision Engineering's quality products and technical expertise to a global audience. Big Button produced a series of event videos, both for their stand and for promotion on social media during and after the event. These included VIP video invites to the event, a big screen film on the stand highlighting each product range, event highlights films, and a series of clips showcasing IMI Precision's connected products as part of the show's Industry 4.0 theme.
Jacqui MacKinnon, Marketing Manager at IMI Precision Engineering, explained: "We are a market leader in industrial automation products, so we needed the films to be eye-catching and reflect the quality of what we offer. Once again, Big Button have exceeded our expectations and feedback from customers and our sales team at the event was excellent."
Simon Crofts, Client Services Director for Big Button, said: "We've enjoyed working with IMI Precision Engineering for over 10 years now, and we know how significant the Hannover Fair is for them. The challenge at these large events is that people are in a rush; you only have a few seconds to capture their attention and compel them to come to the stand to find out more. The success IMI have had yet again shows why it's worth investing in high-quality video content for key events like Hannover."
Jacqui added: "There's always a lot to organise in the run-up to events, but thankfully our working relationship with Big Button means they have a sound grasp of what we need, and they just get on with doing a fantastic job. During a high-pressure time, knowing we can trust the team gives us real peace of mind."