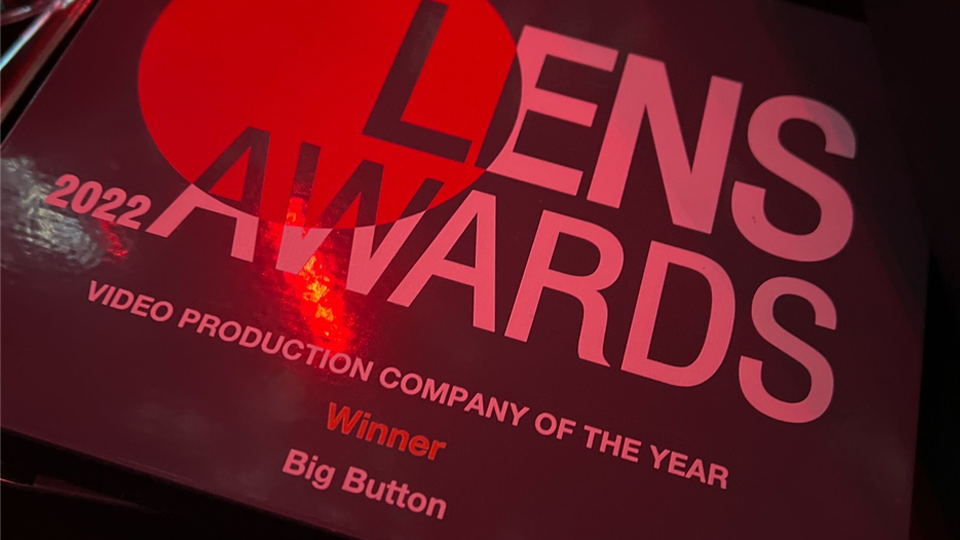 Big Button has won three gold awards and walked away with the coveted 'Production Company of the Year' prize at this year's Communicate Magazine LENS Awards.
In a ceremony held last night at The Brewery, leading brands and producers gathered to celebrate the video marketing industry's top talent and most successful projects. Big Button beat off stiff competition from BP, LNER and Anglo American to win recognition for its work with three key clients: GoCardless, SEGRO and Wellington.
The evening also delivered further success for the company, winning the 'Video Production Company of the Year' award in the midst of extremely strong competition from the industry's leading lights.
Big Button's Client Services Director, Simon Crofts, said: "What a night! We're absolutely thrilled that we could help our clients achieve this recognition for their projects, and winning gold in all of our categories was fantastic. Winning 'Video Production Company of the Year' was just the icing on the cake, really quite humbling when we look at all the amazing talent in the room."
Catherine Staite, Customer Advocacy at GoCardless, added: "Big Button has been my creative agency of choice for over 8 years. I'm absolutely delighted that GoCardless' Pride team won an award for their 'Message to Myself' film through our work together. The evening was made even better when the 'Video Production Company of the Year' award came Big Button's way – it really is so well deserved!"