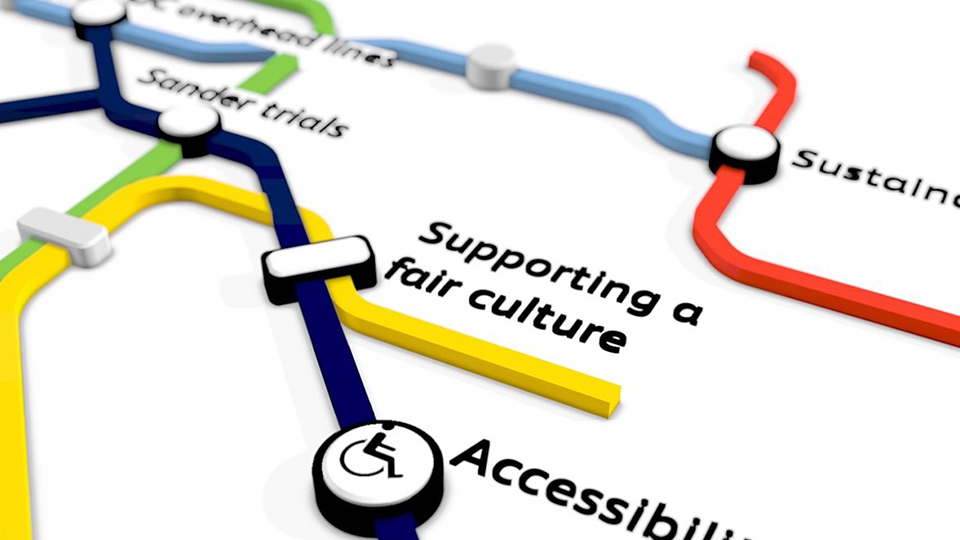 RSSB is celebrating its achievements from the past year using a video with a difference. They chose Big Button to deliver an impactful interactive video project that signals a change in the way audiences engage with annual reports.
2017/18 has been another fantastic and productive year for RSSB, the industry body dedicated to driving rail safety standards to the highest possible level. They approached Big Button with a long list of achievements from the last 12-months, which in the past would resulted in a linear video of around 5 minutes.
Big Button proposed a different approach. Instead of watching a long presentation, viewers are presented with an interactive rail network map where they can click on stations and watch short clips about each accomplishment, before returning to the map to choose another story.

The project was designed by RSSB and Big Button, and the interactive technology is delivered by Buto, an enterprise video platform. The video has been very well-received by RSSB partner members, and there are further plans to repurpose the videos for social media and internal use.
Martha Parkhurst, Publications Manager at RSSB said: "It's been a busy year here at RSSB and it feels fitting that we share our achievements using this innovative and unique approach. We love the interactive map that Big Button have produced, and the look and feel are spot on."
Big Button founder, Mark Burgess said: "In a digital world crowded by content, we're always looking for new ways to cut through the noise, engage audiences and make our client's video content stand out. Although Buto has been providing interactive video for a while, it's pleasing to use the technology in a way that has delivered real practical benefits to RSSB; we're looking forward to seeing how else we can develop these ideas for our clients."